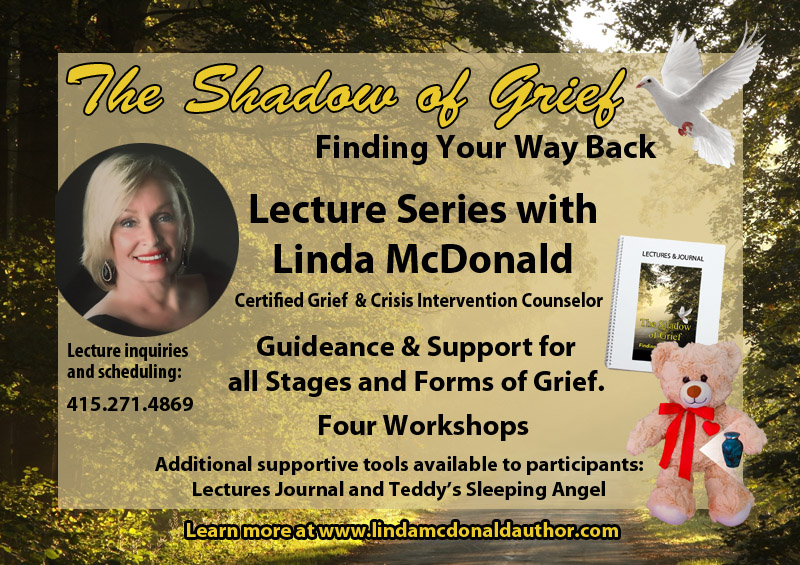 The Shadow of Grief –
Finding Your Way Back
Lecture Series
Lecture Series with Linda McDonald, certified grief and crisis intervention counselor, offers guidance and support for all stages and forms of grief.
Loss is a far more encompassing theme in our life. We lose not only through death but by leaving or being left, by changing, letting go, and moving on. We suffer not only from separations of those we love but the loss of our dreams, future goals, sense of safety, desired freedoms or power, and within time the loss of our own younger self.
Linda McDonald experienced tragic losses herself within a short period of time – three of her children, one granddaughter, and her husband of forty-three years. Linda's life experiences and professional background as a grief counselor drive her unwavering desire to help people find their way back from the shadow of grief.
The Lecture Series Offers Four Workshops
Goal of Workshop #1:
Assessing where we are. Sharing stories. Making a commitment to ourselves to start moving forward.
Goal of Workshop #2:
Understanding what happens when we experience loss. Emotional and physical responses. Stopping second guessing.
Goal of Workshop #3:
Recovering from loss. Accepting there are no shortcuts. Understanding that every grief journey is different.
Goal of Workshop #4:
Gaining new strengths, new perspectives of life, new appreciation, and new values. Finding a new way to approach life.
The lecture series 'The Shadow of Grief – Finding Your Way Back' is currently offered at no cost. Additional supportive tools are available to lecture participants for purchase: 'Lectures Journal' ($9.95) as well as 'Teddy's Sleeping Angel' ($28.95) – a grief support tool Linda created which can hold a small urn with the ashes or other personal items of a lost loved one (urn not included).
It seems that our generation is faced more than others with the loss of loved ones to prescription drugs, COVID, cancer, motor vehicle accidents and other illnesses or tragedies.  This lecture series is a wonderful tool libraries, associations, churches and other organizations can offer to support their employees or members.
For more details and availability in your area, please contact Linda McDonald, GC-C, CIC-CSp.
Call 415.271.4869
for more details or use the form below
to inquire about the lecture series.